Mary Jo Mason is one of Tuscaloosa's Top Realtors. She has been active full time in the real estate business since 1978 and was recognized in 2007 for providing "Top Block Service" to all her customers by one of the Nation's leading relocation companies. Mary Jo is past President of the Association of Realtors and was chosen its Outstanding Member of the Year.
A "Life Member of the Million Dollar Club," Mary Jo specializes in residential properties including Lake Tuscaloosa waterfront real estate, Condos for University of Alabama students/fans/alumni, corporate relocation, new construction, land/lots and commercial sales. She is affiliated with a number of relocation companies. Some of the companies she currently represents are Cartus Relocation, Prudential Relocation, Americorp Relocation, Federal National Mortgage Association (Fannie Mae), Federal Home Loan Mortgage Corporation (Freddie Mac), Corporate Relocation Services, Primacy Relocation, and Sirva Relocation.
Mary Jo has been a resident of Tuscaloosa since 1968. She is a native of New Orleans and holds a Bachelor of Science Degree from Louisiana State University. Her husband, John O. Mason, Jr., a Certified Public Accountant, is a professor in the Culverhouse School of Accountancy at the University of Alabama. They have 3 sons and 10 grandchildren. Mary Jo loves Louisiana food. Among her favorite recipes are: Seafood Gumbo, Seafood Boil, Crawfish Fettuccini, Creole Jambalaya, Shrimp Creole, Chicken in a Roux and Bread Pudding. She is always happy to share these recipes as well as others.
Mary Jo's exceptional gift and love of real estate, her commitment and dedication to providing superior service, and her determination to take excellent care of her clients and friends has contributed not only to their happiness and well being but to her own success and the success of her company.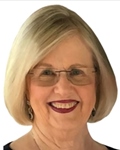 Mary Jo Mason
Associate Broker
The Advantage Realty Group


1641 N. McFarland Blvd, Suite A-1




Tuscaloosa

,

AL

35406


Fax:

205-758-1831